General Information and History of Girne American University
Girne American University is a non-profit university. It was founded in 1985 by Mr Serhat Akpinar with a vision to introduce American-style higher education in North Cyprus.
GAU is known for organizing activities that enrich the social and cultural exposure of it's students. In fact, the university is rated first in this regard across North Cyprus.
If you choose the Girne American University, you can be sure to have the opportunity to take part in social activities, seminars, conferences and interviews all designed to help you succeed in an international job market.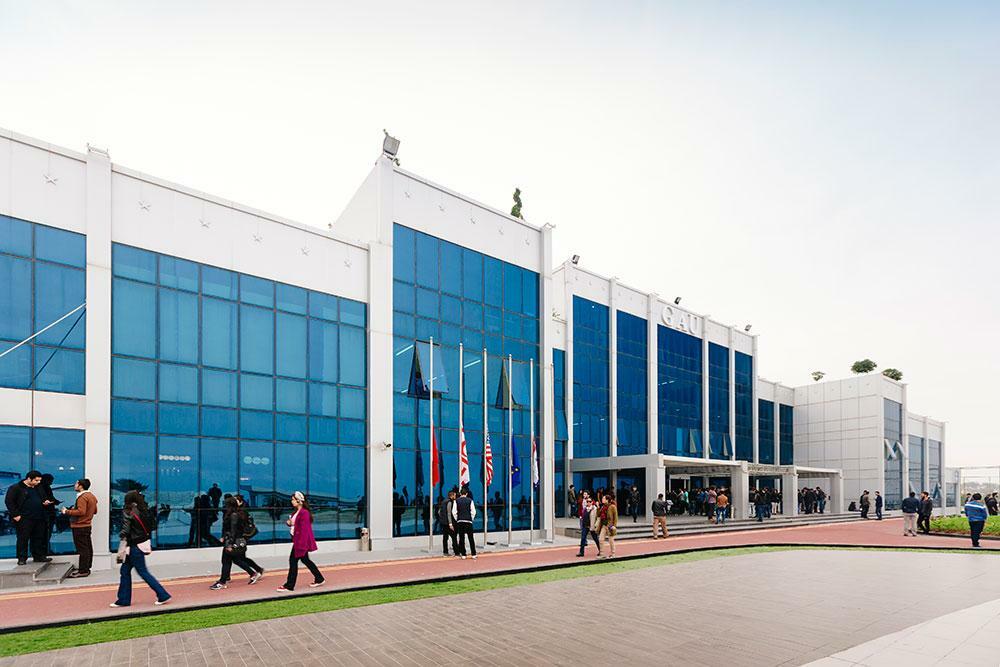 Architecture, Design and Fine Arts
Architecture
Graphic Design
Interior Architecture
Plastic Arts
Visual Art (painting)
Architecture (Turkish)
Interior Architecture (Turkish)
Business and Economics
Banking and Finance
Accounting
Business Management
Marketing
Management Information Systems
International Business Management
Economics
Business administration (Turkish)
Political Science
International Relations
Political Science and Public Administration
Medicine
Communication
Journalism and Broadcasting (Turkish)
Radio, Television and Cinema
Public Relations
Digital Marketing and Social Media (Turkish)
Education
English Language Teaching
Computer and Instructional Technology Teaching
Engineering
Automotive Engineering
Civil Engineering
Computer Engineering
Electrical-Electronics Engineering
Energy System Engineering
Industrial Engineering
Mechanical Engineering
Humanities
English Language and Literature
Chinese Language and Literature (Chinese)
Psychology
Interpreting and Translation
Law
Performing Arts
Tourism and Hospitality
Tourism and Hospitality Management
Gastronomy and Culinary Arts
Sports
Recreation Management
Sports Management
Physical Education and Sports Teaching
Pharmacy
Girne American University Master Programs
Architecture (March)
Art and Design (March)
Business Management (MBA/MSc)
Gender Studies (MSc)
Interior Architecture (MA)
Marketing (MBA)
International Business Law (LLM)
International Relations (MSc)
International Business Management (MBA)
Construction Management (MSc)
Management of Information Systems (MBA)
Law (LLM)
English Language Teaching (MA)
Computer & Industrial Technology Teaching (MA without Thesis)
Industrial Engineering (MSc)
Computer Engineering (MSc)
Health Care Administration (MSc)
Public Relations (MSc)
Social Psychology (MSc)
Tourism and Hospitality Management (MSc)
Physical Education Teaching (MSc)
Financial Management (MBA)
Economics (MSc)
Electrical-Electronics Engineering (MSc)
Journalism and Broadcasting (MSc)
Girne American University PhD Programs
Architecture
Business Management
Communication & Media Management
Computer Engineering
Politics and international Studies
Psychology
Tourism and Hospitality Management
Electrical-Electronics Engineering
Construction Management
Educational Sciences (Administration)
Marketing
Management of Information Systems
Undergraduate Admissions
Specific Requirements for African Countries
For the Faculties of Dentistry, Engineering, Medicine & Pharmacy, an A/L (GCE) pass in Maths, Physics, Biology, or Chemistry is required.
Specific Requirements for Other Countries
International General Certificate of Secondary Education Examination (IGCSE)
American College Testing Examination (ACT)
Scholastic Aptitude Test Examination (SAT)
Tawjihi Examination (for students from Jordan and Palestine)
International Baccalaureate Examination
Baccalaureate Examination (for students from Lebanon, Iraq or Syria)
"Diploma Debirestan" (for students from Iran)
Higher Secondary Certificate Examination (for students from Pakistan, India and Bangladesh)
WAEC/NECO /NABTEB(for students from Nigeria)
General official High School Certificate (students from other countries)
GAOKAO Exam Results (for Chinese students)
Please refer to our post on general admission requirements for North Cyprus universities.
To learn more on North Cyprus, visit this post about North Cyprus. Also, find out why many international students choose North Cyprus.
Did you also know North Cyprus is Visa free for the majority of African countries?
The majority of international students upon admission to GAU receive a 50% scholarship on tuition.
Girne American University provides students an amazing opportunity to receive up to a 75% on tuition after completion of the routine GAU summer school.
Blue Ocean will help you in the preparation of all documents for admission in accordance with the requirements of GAU or any other partner university in North Cyprus and will assist in obtaining a scholarship for tuition where applicable.
GAU has tailored their campus to make sure students feel comfortable and safe. GAU provides students a modern educational building with bright spacious classrooms, where lessons are held, as well as a beautiful garden, a large pool with a very attractive fountain, and, of course, dormitories for comfortable living.
GAU provides dormitories for its students on campus – three of them allocated to girls and one for boys.
Other European-standard dormitories are not far from the university. The bus service runs from early morning until nine in the evening, running from each dormitory to the university, as well as to the city center and back to the university.
Because GAU understands the value of exercise and physical well being, on the university campus there are more than 20 clubs for various sports interests including: tennis, basketball, volleyball, horse riding, bodybuilding and ballet.
The university has an excellent material and technical base, its own radio station, satellite communications, and internet access.
Finally, GAU laboratories, educational research centers, libraries are all equipped with the latest technologies and managed by competent staff.