Northern Cyprus is a de facto state officially called the Turkish Republic of Northern Cyprus.
President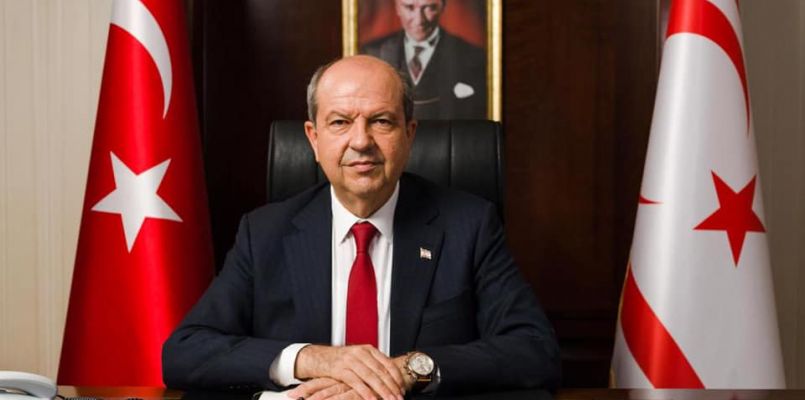 Ersin Tatar is the current president.
Location
The country lies between latitudes 34° and 36° N, and longitudes 32° and 35° E with a total surface area of 3,355 square kilometers (1,295 sq mi).
Neighbors
The closest country is Turkey in the north (70km). Other neighbors are Syria (110km) in the east, Lebanon (200km) and Israel (300km) in the southeast, Egypt (400km) in the south and Greece (800km) in the west.
Flag
The flag was adopted by Law n°15 of 1984. The flag of Northern Cyprus is similar to the Turkish with the crescent slightly to the left of the center between two horizontal red bars.
Currency
Northern Cyprus uses the Turkish lira as legal tender.
Language
The official language of North Cyprus is Turkish. Although the local Cypriots have their own dialect, English is also widely spoken with many international programs at universities taught in English.
A few pointers to get you started in Turkish.
Merhaba – Hello
Selâm / Merhabā -Hi (merhabā is more common)
Iyi günler – Good day
Iyi akşamlar – Good evening
Iyi Geceler – Good night
Lütfen – Please
Teşekkür ederim / Sağol – Thank you
Görüşürüz! – See you!
Nasılsınız – How are you?
Iyiyim – I am fine
Memnum Oldum – Nice to meet you
Evet – Yes
Hayir – No
Yok – No
Numbers
Sıfır 0
Bir 1
Iki 2
Üç 3
Dört 4
Beş 5
Altı 6
Yedi 7
Sekiz 8
Dokuz 9
On 10
Carrying on in all numbers
On bir 11
On iki 12
On Üç 13
On dört 14
Yermi 20
Otuz 30
Kırk 40
Elli 50
Altmış 60
Yetmiş 70
Seksen 80
Doksan 90
Yüz 100
Bin 1000
Population
Under the auspices of UN observers. The total population of the 2011 census of Northern Cyprus was 294,906.
Capital City
The Capital of Northern Cyprus is the impressive city Lefkosa (Nicosia), which has witnessed several civilizations, such as Lusignans, Franks, Ottoman, noble Venetians and the 20th century British period.
Places to Visit at Nicosia:
The old city walls
Selimiye Mosque (The Cathedral of St. Sophia)
The great Khan (Büyük Han)
Büyük Hamam ( The great Turkish Bath)
Mevlevi Tekke Museum
The Cathedral of St. Catherine
The Lapidary Museum
Administrative Partition of Northern Cyprus
Northern Cyprus is divided into six districts: Lefkoşa, Gazimağusa, Girne, Güzelyurt, İskele and Lefke.
Largest Cities in Northern Cyprus
TRNC 2011 Population and Housing Census
| | | | |
| --- | --- | --- | --- |
| Rank | Name | District | Population |
| 1 | North Nicosia | Lefkoşa | 61,378 |
| 2 | Famagusta | Gazimağusa | 40,920 |
| 3 | Kyrenia | Girne | 33,207 |
| 4 | Morphou | Güzelyurt | 18,946 |
| 5 | Gönyeli | Lefkoşa | 17,277 |
| 6 | Kythrea | Lefkoşa | 11,895 |
| 7 | Lefka | Lefke | 11,091 |
| 8 | Dikomo | Girne | 9,120 |
| 9 | Trikomo | İskele | 7,906 |
| 10 | Lapithos | Girne | 7,839 |
Economy
The economy of Northern Cyprus is dominated by the services sector (69% of GDP in 2007). The country operates on a free market approach permitting it to be listed as the top country in Europe in entrepreneurial intent to start a new business in 2014.
Airports
Air transport is a major route of entry into Northern Cyprus. Ercan International Airport (ECN) sometimes referred to as Lefkosa (Nicosia) Airport is the most popular airport.
Education
The Department of Education Planning and Program Development has made significant contributions to the Cyprus Turkish educational system since 2005.
Vision & Mission of the Department of Education Planning & Development
…Cyprus Turkish Education system aims at providing individuals with appropriate environments to improve themselves in all respects and raising generations who:
Open to new ideas
Give priority to humanistic values
Are peaceful and conciliatory
Have committed themselves to freedom, democracy, peace, social justice and superiority of jurisprudence
Have assimilated scientific thought and study
Are continuously able to improve themselves
Are able to express their ideas freely
Inquire, investigate, know how to access information
Are able to establish friendly relations with individuals of Turkey and other neighboring communities
Adopt ATATURK's peaceful, innovative, contemporary, secular principles
Are mentally and physically healthy, have an advanced aesthetic sense
Are virtuous and creative
Bear the human qualities of the 21st century.
For more information about universities and international programs in Northern Cyprus, see the various universities Blue Ocean can help you secure admission.
Find a school, get admission and travel to North Cyprus with Blue Ocean. Chat on WhatsApp.